Cavity Dental Filling
A filling, also called dental tooth fillings, is a type of restorative dentistry which is used to restore a decayed or damaged tooth structure back to its normal shape and function. When you visit your dentist for a filling procedure, firstly your dentist removes the decayed tooth material, then cleans the affected tooth parts, and finally fills the cleaned area with a filling material.
A filing can help to prevent further dental decay by sealing off spaces where bacteria can penetrate. There are different materials used for dental fillings, these include silver amalgam filling, gold fillings, composite fillings (tooth colored fillings), porcelain fillings, etc.
Which Type Of Filling Is The Best?
Actually, every patient may require a different type of filling for his or her dental condition, so no particular type of filling is the for every patient. The type of filling that is for you will depend on the following factors – the extent of your dental case, the part of your mouth where the filling is needed, your allergy to certain materials, and the cost involved in using each type of filling.
Here Are the Considerations for Different Type of Dental Fillings
Porcelain fillings: these are also called "porcelain onlays or inlays." Porcelain fillings are produced in the dental laboratory according to order and then bonded by the dentist to the patient's tooth. Porcelain fillings can be made to be tooth colored fillings and are stain-resistant. Porcelain fillings can be used to generally restore most of the teeth. Their cost of porcelain fillings is similar to that of gold fillings.
Gold fillings: these are also made to order in the dental lab and then bonded into place. Gold fillings are well-tolerated by the gingival tissues and last much longer – at least 20 years. Hence, most dental authorities and associations consider gold fillings as the tooth-filling material. However, gold fillings are often the most expensive dental fillings and require multiple dental visits.
Composite fillings: these are tooth-colored composite resins. They match the color of the natural tooth and are, therefore, used where a natural tooth appearance is desired. The materials for the composite resins are mixed together and placed directly into the needed area, where they become hardened. Composite fillings are not ideal for large dental fillings because they tend to chip or wear over time. Composite fillings can also be stained from tobacco, tea, or coffee. Generally, composite fillings are not as durable as other types of dental fillings, they do not last long and generally last for about 3 to 10 years.
Silver amalgam fillings: these are relatively cheaper and are resistant to wear. However, they have a dark color and can be quickly and easily noticed than composite fillings or porcelain fillings restorations. Most times, silver amalgam fillings are not usually used in places where they would be very visible like in the front teeth.
Others
Ceramics fillings: these are often made of porcelain and are more abrasive and stain-resistant than the composite fillings. Generally, ceramic fillings can cost as much as gold fillings and last longer than 15 years.
Glass ionomer: the filling materials used in making glass ionomer are acrylic and a specific type of glass. Glass ionomer is most appropriate for dental fillings below the gum line or for dental fillings in little children, though drilling would still be required. This type of fillings releases fluoride into the teeth, which helps to protect the teeth from further decay. However, glass ionomer is weaker than the composite fillings and is prone to fracture. Glass ionomer tends to wear over time and generally lasts for at most 5 years. Glass ionomer is less expensive when compared to composite fillings.
In the case of damage to a large portion of the tooth due to fracture or dental decay, a dental crown, or dental cap may be recommended. And in the case of a severe dental decay, such that has gotten to the tooth nerve, two types of treatment may be administered: root canal therapy, which involves the removal of the damaged nerve, and pulp capping procedures, which attempt to keep the nerve.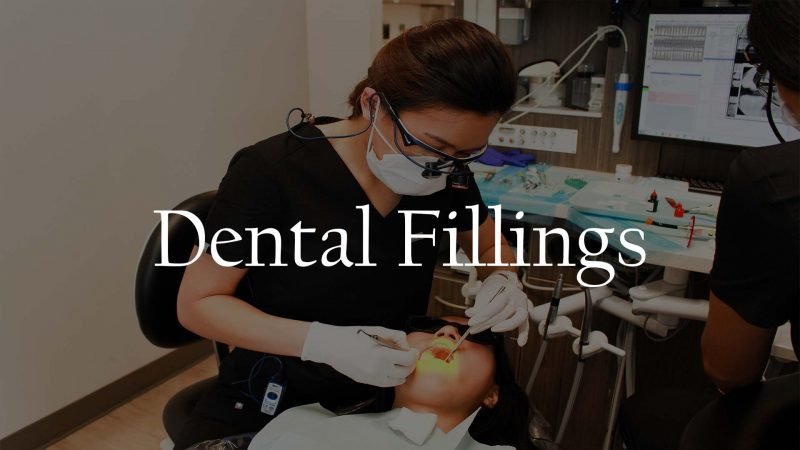 Dental Fillings Procedures
If your dental condition requires filling a cavity, the following procedures will be followed. Your dentist removes the decayed tooth material, then cleans the affected tooth parts, and finally fills the cleaned affected area with any of the appropriate filling materials listed above.
When Do You Need a Dental Filling?
You may not be able to tell when you need a dental filling, but your dentist can detect whether you need a dental filling or not. When you go for a dental check-up, your dentist would examine the surface of each tooth using a small mirror to tell if you need a dental filling.
If your dentist notices anything abnormal, he or she would check closely using special instruments. Your dentist may have to X-ray a section of your mouth or your entire mouth to determine the right treatment for you. The type of treatment chosen by your dentist would depend on the extent of tooth damage caused by dental decay.
Does Dental Insurance Plan Covers For Dental Fillings?
Since dental fillings are more of restorative dentistry than cosmetic dentistry, it is covered by most dental insurance plans. Most insurance companies cover the cost of dental fillings up to the price of the filling, then the patient has to pay for the rest.
Indirect Fillings
Sometimes, a patient may not have enough tooth structure to support a filling and if the tooth is not so damaged that a dental crown is required, an indirect filling may be used. Indirect fillings are very similar to composite fillings (tooth colored fillings) but they are made in the lab and require only two dental appointments to be placed.
Indirect fillings come in 2 types, which are inlays and onlays.
Inlays are very similar to dental fillings but the entire dental works lie within bumps on the upper surface of the tooth.
Onlays, on the other hand, are more like partial crowns and are more extensive than inlays. Onlays cover one or more bumps.
Indirect fillings are more durable and last longer than the conventional dental fillings – about 30 years. Indirect fillings can be made of gold, porcelain, or tooth-colored composite resin. However, inlays and onlays also weaken the tooth structure, though not as much as traditional dental fillings.
Contact Dentist Open On Saturday today to learn more about dental fillings and to find out if you need dental filling.
Our patients love treatment at our locations consistent 5-star ratings across the board.
See what they have to say about our dentists and dental team.
Great Doctor, Great staff.
I had a root canal and a crown done here, the entire process took about an hour. Will be back in 2 weeks for my final crown! Great doctor, great staff.
Michael John
Very Knowledgeable & Informative
Very knowledgeable and informative, explaining all your x-ray and imagery and in creating a course of treatment. The staff is friendly and definitely concerned with their patients. Comfortable environment.
Melisa Radford
BEST dentist experience
I am not the biggest fan of the dentist, however this was the BEST dentist experience I have ever had! Everyone was so kind and I got everything I needed done in one visit!
Allie Hackett
Excellent service.
Excellent service. Great first impression! Best cleaning I've had in several years, my mouth feels amazing. They even took the time to show me how to brush more effectively. My teeth are back to being pearly white.

Michelle Campbell
Very Prompt & Professional.
They were very prompt and professional. I felt very comfortable in the visit. They have good exam specials without any hidden fees. I have found me a permanent dentist office. Thanks URBN staff.
Shayla Williams
I Would Recommend To All
URBN Dental provided great service and they were all so nice. They did a great job communicating with me and i would recommend to all.
Emmelyn Nguyen