Same Day Dental Crowns Near Me in Houston
If you are searching for Same day dental crown near me, you've come to the right place! Dental crowns are tooth-shaped caps that are usually placed over the teeth. They are a covering for the tooth to restore its shape, strength, and size of the tooth while also enhancing its appearance at the same time. When the crowns are cemented firmly, they cover the entire portion of the tooth that's visible, which lies at and above the gum line.
 You can visit our website for affordable dental crowns near me and get a beautiful smile.
Why Do You Need Same Day Dental Crown Near Me in Houston?
Several situations may require you to fix a crown. Some of these include;
For the protection of a weak tooth (for example, from decay) from breaking or for holding parts of a cracked tooth together

Restoration of a tooth that is already or a tooth that has worn down severely

To provide support and cover for a tooth that has a large filling in a case where there aren't a lot of teeth left.

To provide support by holding a

dental bridge

in place.

To serve as a covering for severely discolored or misshapen teeth.

Serve as cover for a dental implant.

It can also be used to provide a cosmetic modification.
In the cases of little children, a crown dental near me may be used on primary (baby) teeth to:
Save a decayed tooth that has been severely damaged to an extent where it can't support a filling.

Serve as a form of protection for the teeth of a child with a high risk of getting a

decayed tooth

, especially when a child finds it challenging to keep up with daily oral hygiene.

Decrease the frequency of general anesthesia in the case of children who cannot cooperate fully with the requirements of proper dental because of age, behavior, or medical history.
A stainless steel crown is most likely recommended by the pediatric dental crown dentist near me in such situations.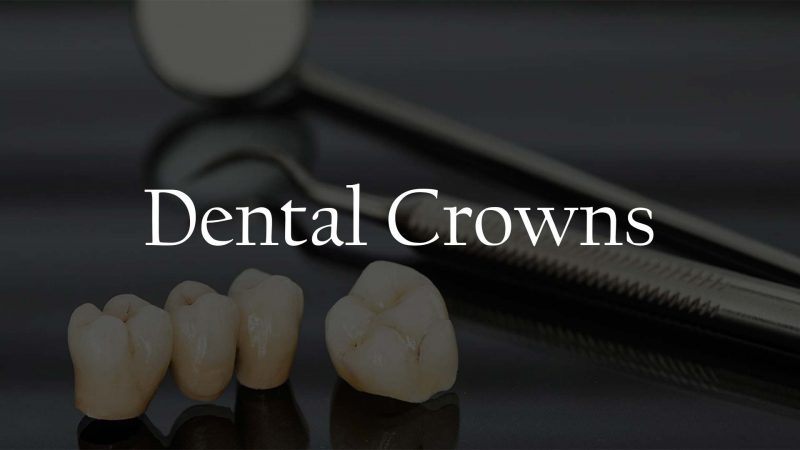 Same Day Dental Crowns Near Me in Houston
The Different Available Types of Emergency Dental Crown
Dental crowns for permanent use can be produced with different materials, including stainless steel, all forms of metal (such as gold or silver), all resin, porcelain-fused-to-metal, or all ceramic.
Stainless Steel Crowns – They are prefabricated and used temporarily, primarily on permanent teeth. This crown protects the tooth or the filling, while the permanent crown is crafted from another material. In the cases of little kids, a stainless steel crown is used to fit over a baby tooth prepared for it. The crown protects the tooth from further decay because it covers the entire tooth. As the baby tooth gives way naturally for the permanent tooth to emerge, the crown comes out with it in a natural manner. Generally, crowns made from stainless steel are used for children because they save time to fix and are cost-effective.

Metal Crowns – They are made from alloys with a high content of platinum or gold or base metal alloys (such as cobalt-chromium and nickel-chromium alloys). These crowns withstand chewing forces and biting forces well and are probably the most long-lasting in terms of wear down. They would rarely chip or breakfast well. Their major drawback, however, is their color.

Porcelain-Fused-to-Metal Crowns – They can be produced to match the color of your teeth. A drawback, however, is that there is more wear to the opposing teeth when compared to metal or resin crowns. The portion of the crown with a porcelain component can also break off. They, however, look most like regular teeth, except for all-porcelain crowns. If there is gum recession, the metal underneath the porcelain can show.

All-Resin Dental Crowns – These are the least expensive among all crown types. However, they will wear down with time and are more likely to get fractured than porcelain-fused-to-metal crowns.

All-Porcelain or All-Ceramic Dental Crowns – They give off a better natural teeth color match than all the other types of crowns. For people with metal allergies, they are just perfect. They can be placed as a covering for the back and front teeth.
Procedure for Installation of Dental Crowns Near Me
It takes two separate visits for a complete dental crowns Houston installation procedure. During your initial appointment, your tooth will be examined to determine if it can support a crown, after which it will be filed down to prepare it for the crown. Alternatively, if the tooth is broken or there is severe damage, it may require some filling to ensure it is big enough to receive the crown properly.
After filing or filling the teeth to the proper shape, an impression of the tooth and those surrounding it will be taken by the dental crown specialist near me and then sent to the dental lab so that the permanent crown can be designed. At the end of this initial call, you will be given a temporary crown to protect your tooth until the permanent crown becomes ready.
The second visit for the dental crown near me will be done when your permanent crown has been made ready. Your temporary crown will be removed, after which the new dental crown will be positioned and fastened by the dentist with a special adhesive.
Upon completion of your procedure, you may need some time to get used to it. But once it feels normal in your mouth, you can carry out all the normal teeth functions, and it will look just like natural teeth.
You can continue caring for your crown after your procedure in several ways. You should avoid sticky foods such as chewing gum. Also, you should not bite down on hard food. When flossing, you should slide instead of lifting out the floss so you do not pull out the temporary crown. You should follow up with discussions with your emergency dentist so that you can ask any questions and further information can be given to you regarding your dental crown.
To learn more about dental crown services near me, book an appointment now with us or visit our website.
Our patients love treatment at our locations consistent 5-star ratings across the board.
See what they have to say about our dentists and dental team.
Great Doctor, Great staff.
I had a root canal and a crown done here, the entire process took about an hour. Will be back in 2 weeks for my final crown! Great doctor, great staff.
Michael John
Very Knowledgeable & Informative
Very knowledgeable and informative, explaining all your x-ray and imagery and in creating a course of treatment. The staff is friendly and definitely concerned with their patients. Comfortable environment.
Melisa Radford
BEST dentist experience
I am not the biggest fan of the dentist, however this was the BEST dentist experience I have ever had! Everyone was so kind and I got everything I needed done in one visit!
Allie Hackett
Excellent service.
Excellent service. Great first impression! Best cleaning I've had in several years, my mouth feels amazing. They even took the time to show me how to brush more effectively. My teeth are back to being pearly white.

Michelle Campbell
Very Prompt & Professional.
They were very prompt and professional. I felt very comfortable in the visit. They have good exam specials without any hidden fees. I have found me a permanent dentist office. Thanks URBN staff.
Shayla Williams
I Would Recommend To All
URBN Dental provided great service and they were all so nice. They did a great job communicating with me and i would recommend to all.
Emmelyn Nguyen